Learn about Eastridge Presbyterian Women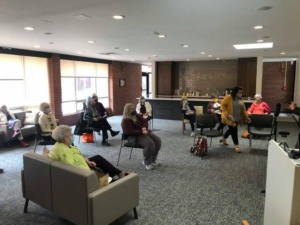 Our purpose is Forgiven and freed by God in Jesus Christ, we commit ourselves.
We have one morning circle, two afternoon circles, and one evening circle which meet once a month from September through May. We also have four monthly programs with refreshments.
Service and mission projects include:
to nurture our faith through prayer and Bible study,
to support the mission of the church worldwide,
to work for justice and peace, and
to build an inclusive, caring community of women that strengthens the Presbyterian Church (US) and witnesses to the promise of God's Kingdom.
Sewing for mission
Confirmation Class reception
Leprosy Fund
Millenium Mission Fund
Lighthouse
Eastridge Refugee Fund
Teddy Bear Cottage
Fresh Start Home
Campus Life Youth Outreach
Job Outfitters of Lincoln (YWCA)
Rape/Spouse Abuse Crisis Center
Friendship Home
Diseases of Poverty, (PCUSA)
Bread for the World
Church Women United
Eastridge Building Fund in honor of the staff. To find out more, please call the church office. We would love to welcome you into our midst.
Do you knit or crochet?
We need volunteers to make Prayer Shawls, if you are interested please talk to Patty Niemann or go to http://www.shawlministry.com/