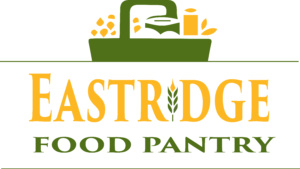 The Eastridge Food Pantry's mission is to provide food to families and individuals in need in Lincoln.
Shopping
Effective March 15, 2023 we will start the following changes to Pantry availability and services:
Drive-thru box service will be available on Sundays from 1:00-3:00. No appointments are necessary. Please follow the signs to follow the flow of traffic. Please stay in your vehicle and our volunteers will load the box for you. Only one box will be provided per family. One adult from each household requesting a box MUST be present to receive a box.
In-person shopping will only be available on Wednesdays from 4:00-7:00 pm. Appointments are required for in-person shopping.
Shoppers request appointments by:
Please note
Each household can only sign up to shop 2 times per month. Abuse of this policy will result in being banned from making appointments for in-person shopping.
Day-of appointments must be created or requested via the link, email or phone prior to 11am on Wednesdays.
You will have 15 minutes to shop in the pantry.
You will be allowed into the pantry at your scheduled time. Please do not arrive early.
Weather Policy
If Lincoln Public Schools close due to weather, the pantry will also be closed.
Please continue to check our Facebook page for updates and other resource information.
---
Supporting the Pantry
While the pantry always needs food, cleaning products, and personal care items, the greatest need that the pantry has is for more volunteers.
Volunteers do a variety of tasks every week:
A group of volunteers meets the Food Bank truck on Mondays to help unload the week's supply of food.
The Food Bank also delivers bags for pick up by DoorDash/Uber drivers on Tuesday mornings. A couple of volunteers are on hand to make sure the DoorDash bags get into the pantry, and then back out to the Uber drivers who come to pick up bags up for delivery.
Also on Tuesdays, a stocking crew unpacks boxes of food and fills empty or depleted shelves with food.
On Thursdays, two shifts of 2-3 people each fill up the boxes that will be distributed to the cars that participate in the drive through distribution. Our distribution numbers are such that we need roughly 50 boxes to be filled by each shift (100 boxes total).
Finally, on Wednesdays and Sundays, we need volunteers to help with the food distribution
(Wednesdays from 4–7 in-person shopping, and Sundays from 1–3 drive-through.

As you can tell, it takes a rather large village to take care of the pantry!
The biggest need for volunteers on a weekly basis is for box fillers Thursdays, and for food distribution on Wednesdays and Sundays. You can sign up to help here:
---
The Eastridge Food Pantry's mission is to provide food to families and individuals in need in Lincoln.
This institution is an equal opportunity provider.
It is operated as a local outreach program by churches in southeast Lincoln.
The Pantry receives financial support and food donations, as well as volunteer assistance, from other churches, including: First Evangelical, Aldersgate United Methodist, First Covenant , Good Shepherd Presbyterian, Heritage Presbyterian, the Unitarian Church, Order of the Red Grail, and Vine Congregational.
CLICK HERE TO VIEW THE NON-DISCRIMINATION STATEMENT.