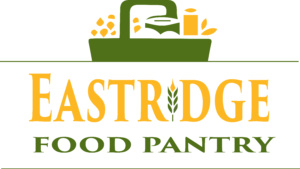 The Eastridge Food Pantry's mission is to provide food to families and individuals in need in Lincoln.
Shopping
Drive-thru and in-person shopping are available every Wednesday from 4-6:00 pm and on Sundays from 1-3:00 pm. No appointments are necessary for drive-thru pickup. However, appointments are necessary for in-person shopping. You can either:
Please note
Day-of appointments must be created or requested via email or phone prior to 11:00 am on the days the pantry is open.
You will have 15 minutes to shop in the pantry.
You will be allowed into the pantry at your scheduled time. Please do not arrive early.
Weather Policy
If Lincoln Public Schools close due to weather, the pantry will also be closed.
Please continue to check our Facebook page for updates and other resource information.
---
Supporting the Pantry
While the pantry always needs food, cleaning products, and personal care items, the greatest need that the pantry has is for more volunteers.
Volunteers do a variety of tasks every week:
A group of volunteers meets the Food Bank truck on Mondays to help unload the week's supply of food.
The Food Bank also delivers bags for pick up by DoorDash/Uber drivers on Tuesday mornings. A couple of volunteers are on hand to make sure the DoorDash bags get into the pantry, and then back out to the Uber drivers who come to pick up bags up for delivery.
Also on Tuesdays, a stocking crew unpacks boxes of food and fills empty or depleted shelves with food.
On Tuesdays and Thursdays, a group of 2 or 3 people fill up the boxes that will be distributed to the cars that participate in the drive through distribution. Our distribution numbers are such that we need roughly 50 boxes to be filled on both Tuesdays and Thursdays every week.
Various people shop at the grocery store throughout the week for pantry needs not met by the Food Bank. For instance, we have dedicated bread shoppers who buy up to 60 loaves of bread each week for distribution on Wednesdays and Sundays.
Finally, on distribution days—Wednesdays from 4–6, and Sundays from 1–3, we need at least 5 volunteers (1 lead and 4 helpers) to handle both the inperson shopping and drivethrough aspects of distribution.

As you can tell, it takes a rather large village to take care of the pantry!
The biggest need for volunteers on a weekly basis is for box fillers on Tuesdays and Thursdays, and for food distribution on Wednesdays and Sundays. You can sign up to help here:
Required Volunteer Training
Volunteers are required to attend the annual volunteer training held in the fall. If you haven't attended the training in person, you can review the two linked Slides Presentations below and submit a signature on the TEFAP Civil Rights Training Certification Form. (For this you will need to either use a PDF editor to complete an e-signature or download/print/sign/scan and email back to: epchungeraction [at] gmail.com
TEFAP Annual Training Certification Form
---
The Eastridge Food Pantry's mission is to provide food to families and individuals in need in Lincoln.
This institution is an equal opportunity provider.
It is operated as a local outreach program by churches in southeast Lincoln.
The Pantry receives financial support and food donations, as well as volunteer assistance, from other churches, including: First Evangelical, Aldersgate United Methodist, First Covenant , Good Shepherd Presbyterian, Heritage Presbyterian, the Unitarian Church, Order of the Red Grail, and Vine Congregational.
CLICK HERE TO VIEW THE NON-DISCRIMINATION STATEMENT.